Unrest Screening in Dublin
Thanks to Moira Dillon and Rachel Lynch, Unrest, the story of Jennifer Brea's struggle with ME which premiered at the 2017 Sundance Film Festival, is to be screened in Trinity College, Dublin, on Thursday November 9th.
Jennifer Brea is about to marry the love of her life when she's struck down by a fever that leaves her bedridden. When doctors tell her "it's all in her head," she turns her camera on herself and her community as she looks for answers and fights for a cure.
The event is being organised to attract medics and researchers from Trinity and elsewhere, to educate them about all things relating to ME, but it is also open to patients, carers, etc.
The venue was selected with medical/research personnel in mind. Unfortunately Wheelchair/Mobility scooter, etc, access is restricted with the typical theatre layout of elevated seating and steps to rows. Wheelchair access is available at the back of the theatre only.
The film which is 97 minutes long will be preceded by an introduction, and followed by a Q&A session.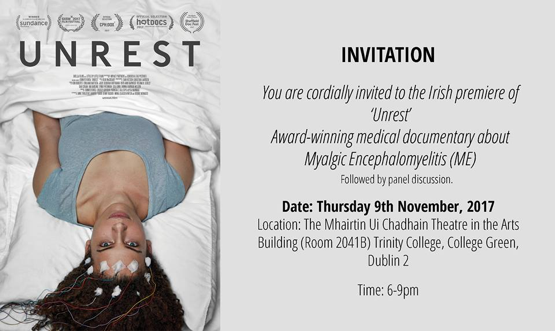 The Unrest film screening on Nov 9th at 6-9pm is in the Mhartin Ui Chadhain Theatre (Room 2041B), Arts Building, Trinity College, College Green, Dublin 2.
This event is Free but registration is necessary at the Eventbrite link below:
https://www.eventbrite.com/e/unrest-screening-at-trinity-college-college-green-dublin-tickets-38832598347
Trailer for Unrest:
https://www.youtube.com/watch?v=7S5sRLRSWIs
TED Talk by Jennifer Brea:
https://www.youtube.com/watch?v=Fb3yp4uJhq0
Journalist Jennifer Brea documents her struggle with Myalgic Encephalomyelitis. After spiking a 105 degree fever shortly after being accepted to a PhD program at Harvard, Brea manifested a mysterious cluster of symptoms, including extreme weakness, fatigue, full-body pain and mental confusion. After being dismissed by doctors, she discovered a community of patients similarly struggling with the mysterious disorder after making videos from her bed about her situation and posting them online. The documentary includes interviews with Brea, as well as her Skype interviews with other isolated patients who are similarly bedridden and struggling to make sense of how their lives have permanently changed.